Riders from across the globe show support
Oct 9 2009 by Sara Nichol, Evening Chronicle
<![if !vml]>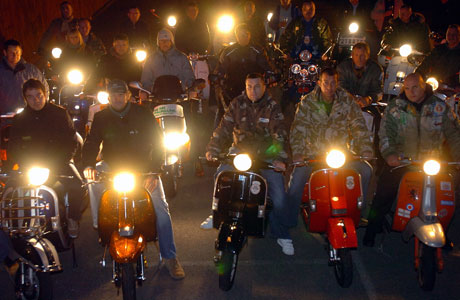 <![endif]>
SCOOTER horns will be echoing around the globe as a tribute to a Tyneside man's brave cancer fight.
Popular Kenny Crown, known as Jasper, is terminally ill with the disease and can no longer engage in his favourite hobby – travelling the country on the back of his scooter.
But his local club, The Dragons, were determined to show their support for the 56-year-old waiter and set-up a charity ride around the whole of Tyneside, parts of Durham and Northumberland in his honour.
The group advertised the event on internet site Facebook to encourage others to get involved.
Within days, scooter clubs across the UK and as far afield as Canada and Uruguay had jumped onboard and arranged 'Big Ride Outs' of their own – to be held at exactly the same time, all in aid of McMillan Cancer Research.
In the meantime, Jasper's friends back at home are tooting their horns twice whenever they drive past his former workplace, Santana's Italian Restaurant, in Jesmond, to show their pal he's in their thoughts.
The 'Big Ride Out', taking place on Sunday, will be under the name 'Two Toots for Jasper' and will take in miles of Jasper's favourite North East spots.
<![if !vml]>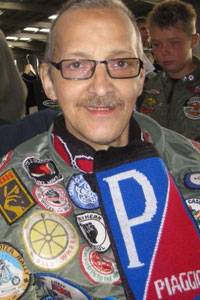 <![endif]>
Friend Paul Hunter, of Benton, Newcastle, said everyone was over the moon with the response.
The 52-year-old said: "Jasper sadly has lung cancer that has spread to his brain and he isn't up to riding now.
"Initially, we asked people who have a scooter, a car or a bike, to toot their horn twice when they drive past Santanas in Jesmond – it lets Jasper's wife know he's in our thoughts.
"The amount of people getting involved in 'The Big Ride Out' and how far the word has stretched has taken us all by complete surprise.
"We really thought it would just be a local event but it's got as far away as Toronto and Uruguay.
"Jasper travelled all over with his scooter and he was known and liked by a great many people – that's probably why we've had such a great response.
"Our only wish is that an event as big as this could be for a more happier occasion but Jasper's family are over the moon with what we're doing.
"We're arranged a charity night in his name as well and the tickets for that sold out in days – all 250 of them.
"Everyone on Sunday will be riding with a 'Two Toots for Jasper' poster on the front of their bike and we'll have a huge banner as well, which was kindly donated.
"Some many people have helped out or donated things for either of the two events that it's just impossible to thank everyone."
Jasper, who lives with his wife Roz in Fenham, Newcastle, is now in the Freeman Hospital but hopes to make it to one or both of the events.
His son Alex left a message on the Facebook page which said: "Fingers crossed he comes out this week, and I hope to have him there for the big ride out. We are all praying he gets out. Thanks again."
Those interested in joining the ride out should meet at 11.15am at The Lochside Pub, Red Hall Drive, High Heaton, before going on to The Falcons Nest, at the Gosforth Park Racecourse for noon.
The route will include Newcastle, Gateshead, Ovingham and Prudoe, in Northumberland, and Consett, in County Durham.
To make a donation go to www.justgiving.com/2TootsforJasper.